Many of us often feel utterly helpless when pictures of ocean turtles swimming through trash filled water or being trapped in plastics pop up on our newsfeeds. People see a little hope seeing companies donating some percentage of their sales to help these turtles and on top of that, the products that they are selling being cute turtle bracelets makes it quite tempting to buy.
Fahlo is the ONLY legit organization that sells authentic turtle tracking bracelets in partnership with Sea Turtle Conservancy (STC).
Consumers should be on the watch for scam organizations and companies since there are so many of them. So, if you are wondering how to help these turtles without falling into the trap then keep on reading as you will learn how to detect the scam websites in the following writeup.
What Are Turtle Tracking Bracelets?
Thousands of sea turtles are suffering and dying as a result of the presence of plastic in their bodies. Again, sea turtles spend about 90% of their lifespan under the ocean and between their different developmental stages.
A lot of valuable information about sea turtles cannot be obtained as humans cannot access the deep parts of the ocean easily.
Bracelets that monitor the whereabouts of sea turtles help to generate awareness and funds for conservation efforts worldwide by donating 10% or so of their earnings from the bracelets to sea turtle conservancy or STC and organizations working for the sea turtles.
In this way, not only the turtles are benefitted but the buyers also get to track one turtle and look pretty wearing the bracelets!
The bracelets bear a meaning to them as it symbolizes their contribution to the betterment of the turtles.
It makes the buyer feel close to the sea turtles as it can allow them to see the real-time location of the turtle.
Moreover, awareness about the sea turtles can be raised and public involvement with conserve programs can be increased through sea turtle tracking bracelets.
Scam Websites That Sell Sea Turtle Tracking Bracelets
There are a lot of scams out there, particularly online, and it may be hard to distinguish the originals from the fake ones.
In recent years, unscrupulous fraudsters have realized that they may use the kindness of those who are keen to protect the environment.
Using images of marine animals swimming in plastic-filled seas or being trapped in it, they manipulate people's feelings of helplessness when they witness these images. For their own monetary benefit, these websites use people's generosity.
Unfortunately, the only thing these organizations' clients wind up doing is purchasing outrageously pricey goods, whose inflated profit margins go straight to the owners' bank accounts with zero benefits to the sea turtles.
Organizations employing a range of aliases advertise on Facebook, offer turtle bracelets and pendants online, and provide customers with unlawful access to STC's turtle monitoring maps. Sea Turtle conservancy or STC have already published the name of the scam pages on their website.
Such as Mahola, Club Ocean, MyTurtleProject, Ocean Lives, Ocean Project.co, Tidalia, Earth Lives, Wildlife Charm, Wildlife Team, Turtle's Journey, Ocean Better, Blue Ocean, or Wildlife Mission and so on.
Ocean project.co is such a scam website that claims to be in association with STC and donates 10% to the welfare of the sea turtles with no valid proof or any information.
Moreover, they seem to charge for tracking sea turtles when STC offers that for free. They also cost extremely high prices for grossly made cheap products that can be found on other websites as well.
On top of that STC has clearly warned about this particular website and other similar groups and pages, illegally stealing their tracking codes which these scam websites don't even provide to the buyers as they offer to.
Detecting Scam Sea Turtle Tracking Websites
So the easiest way to find out if the website selling bracelets or other pieces of jewelry with Sea Turtle Conservancy's (STC) name is to surf through STC's list of partners or associates listed on STC's website.
In addition, the Sea Turtle Conservancy or STC has previously published the names of the fraudulent sites on its website.
There are a slew of options out there, such as Turtle's Journey, Mahola, Ocean Project.co, Ocean Project.co, Blue Ocean, Earth Lives, Ocean Lives, Ocean Better, and Ocean Project.co, among others.
To ensure that the product you're purchasing is both authentic and beneficial to the sea turtles, you'll need to do a little analysis before deciding to purchase.
The following points could indicate that they're not legit:
1. Vague idea about their work:
People donate money if they believe they are making a difference in the lives of the endangered species, and fraudsters utilize this strategy to their advantage.
As a result, lures such as monitoring endangered sea turtles, recycling ocean trash, and so on are common.
When you buy anything from them, they make empty promises about how your money will assist in cleaning up plastic from the water and monitor the well-being of turtles without any proof.
Most of the time, they claim to give to reputable organizations and indicate that they conduct the conservation work themselves. But gives a vague or general idea of how they do so.
2. Using cheap replicated pieces of jewelry:
Sells inexpensive jewelry and clothing manufactured in the Far East at a cheaper rate.
Amazon and AliExpress both sell the same bracelet or jewelry with a turtle charm.
3. "Better deal" offers:
It's common for fraudsters to provide the appearance of a better deal by claiming to be giving substantial discounts, but in reality, the goods will still cost you much more than you bargained for.
Selling strategies such as "only 5 left," or "offer only available today," or, "50% off" are used to pressure into making a hasty purchase without proper consideration.
4. Unverifiable claims:
There is a possibility that the information presented on the website is inaccurate.
A few examples of this kind of fraud include the sum of cash the company has contributed, how often plastic they've eliminated from the ocean, how many turtles they've monitored, or any number of other such things.
According to these assertions, there is no proof, as usual.
Fake endorsements and credentials are also a possibility.
5. Complaint reviews:
In addition to the jewelry, purchasers should have received an identification number allowing them to trace their turtles.
It's clear from user feedback on the internet that these records are often absent or that just a single number is provided repeatedly.
Adding insult to injury, Ocean Project.co and a host of other similar firms have stolen tracking numbers without permission and sell them where the Sea Turtle Conservancy (STC) provides the opportunity to track turtles without any cost.
Some Other Tips To Detect Scam Websites
You can easily detect if the website is a scam or not simply by being a little careful and keeping an eye out on them. Some more tips on identifying them:
Verify about a charity's affiliation with a website related to the organization to ensure it is legitimate.
You may quickly find products by taking a screenshot of the product and then hunt for other websites that have the same picture on google.
If you do a quick search on Google, Amazon, or AliExpress, you can locate the exact same bracelets or pendants for a lower price.
If they claim to have credentials and endorsements, be sure they are real.
When learning about a firm for the first time via a sponsored advertisement, proceed with caution and get as much information as possible.
Make sure the website includes a Cookie and Privacy Policy. Consider whether or not it was copied from another site, or is it relevant to the website contents.
Check the number of comments on their social media as the total number of comments will remain the same even after removing the negative comments by the scammers which is very common.
Does Not allow right clicking to prevent from taking screenshots and pasting information into a search engine.
The fake sites will not have a Twitter handle as retweets that call them out as a fraud can't be deleted or quoted.
The fraud websites usually don't have any person, name or a face to guide you or help with any queries and generally have a generic Gmail, Hotmail, or other email accounts.
What Is Wildlife Collections (Fahlo)?
In addition to being the Sea Turtle Conservancy's official jewelry partner, wildlife collections, now named Fahlo, provides 10% of its proceeds from every turtle bracelet sold to Sea Turtle Conservancy (STC).
Two lifelong best friends, Daniel Gunter and Carter Forbes created wildlife collections in 2018. The turtle monitoring wristbands were created as a method to get more people interested in conservation efforts.
Customers get a card with information on their turtles, including their name, photo, and narrative which helps them to connect to the sea turtles.
Moreover, by purchasing a turtle tracker bracelet you will be able to view the exact location of your turtle at any given time with the QR code provided. Each bracelet's net proceeds are contributed to the animal-related charity of the animal shown on the bracelet.
Using a tactile wristband and an interactive tracking experience that only wildlife collections can offer. Wildlife Collections' efforts are focused on helping to generate funds and public awareness for the conservation of all threatened wildlife species.
Wildlife Collections has given almost USD 300,000 to sea turtle conservation programs as a result of our collaboration!
As each year passes, so does the relationship between STC and Wildlife Collections! As part of STC's Tour de Turtles initiative, Wildlife Collections has recently adopted and renamed two satellite-tracked turtles.
How Do Fahlo Bracelets Work?
Fahlo is a genuine organization. When you buy anything from them, they contribute a percentage of the revenue to sea turtles and various animal conservation groups that they work with.
Fahlo collaborates with a number of conservation groups including sea turtles. They help these environmental organizations by developing items that the public can purchase and utilize to donate money to the cause and thus make a difference in the world.
For every bracelet sold, Fahlo gives a portion of the revenue to the campaign's affiliated charity.
In addition to receiving the campaign wristband, they also provide accurate animal tracking codes unlike other scam websites. Each bracelet comes with a unique animal to follow.
Take, for instance, the STC campaign's wristband, which has a tracking turtle. It's possible to learn more about the turtle and monitor its movements on a map.
Saving the Blue, Polar Bears International, Orca Research Trust, Save the Elephants and The Sea Turtle Conservancy are among the organizations Fahlo is now collaborating with. In the future, they intend to work with many more conservation organizations like these to help endangered animals.
Want to get a printable version of this infographic? Click here! [If you want to use this infographic on your website, please link back to this post as the source!]
---
Track A Real Sea Turtle With Each Bracelet!
Learn Name
You get to learn your sea turtle's name, size, age. Also a picture!
Enjoy Stories
Enjoy the story of your sea turtle, where it came from, where is it going?
Follow Me
You get to follow the sea turtle's journey on an interactive tracking map!
Click Here & Use Coupon Code: TURTLEHUB20 For A 20% Discount!
---
The Fahlo Journey Bracelets
The journey bracelet is the name of the bracelets that come with a card containing information i.e. name, picture, back story and the QR code to track your own sea turtle!
This code is designated to a particular turtle that you can call yours as 10% from your purchase will go towards their betterment!
Fahlo took this amazing initiative and partnered with STC to help raise awareness and encourage public involvement with these conservation efforts. This journey bracelet comes in different shades of beads and a pretty turtle charm that will match with your style and indicate your contribution towards sea turtles.
However, the coolest part of this bracelet must be the QR code to track your turtle in real-time. Being able to see your turtle's location is the fruit of your goodwill which is very inspiring for yourself and for others.
Moreover, this bracelet could be an amazing meaningful option as a gift for your loved ones as well since it only costs about $17 and has a beneficial impact on the sea turtles.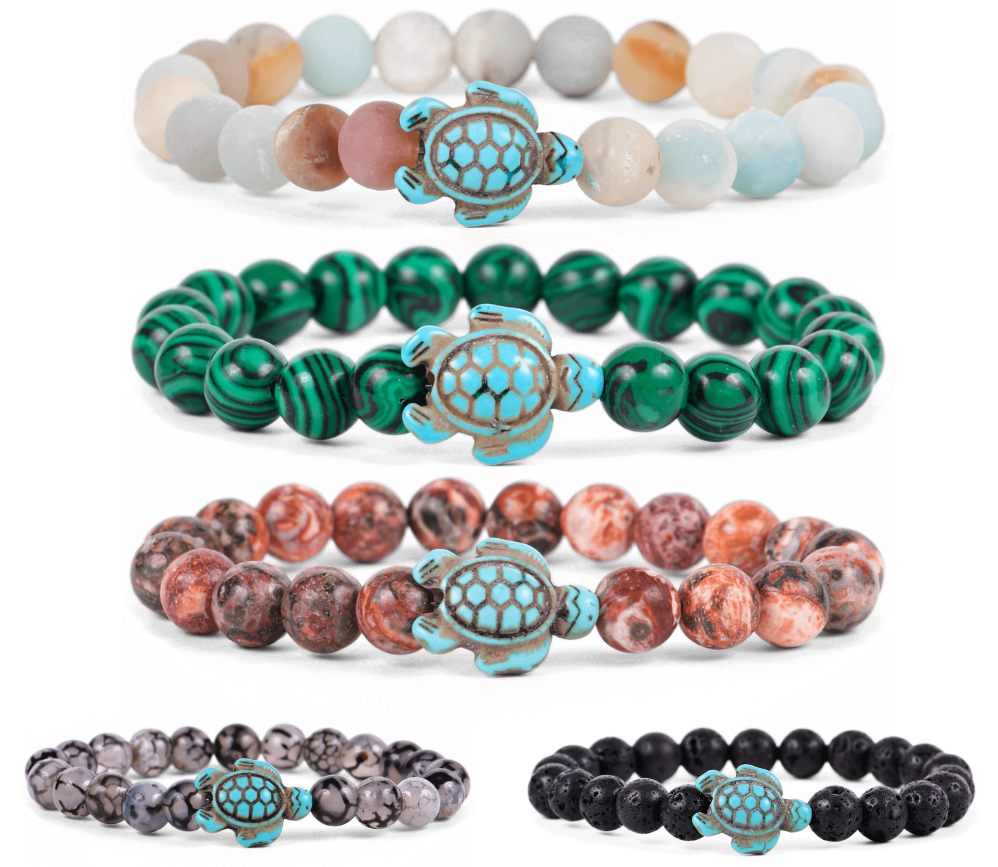 Frequently Asked Questions
Is Follow Your Legend legit?
It is difficult to determine conclusively whether Follow Your Legend is legit or not. Some reviews on Trustpilot indicate positive experiences with the company, such as one customer who was "very pleased" with their purchase.
There are concerns about the legitimacy of Club Ocean. The Sea Turtle Conservancy has issued a scam alert warning people not to purchase products from Club Ocean, Bela Wonder, Ocean Project.co, Turtle's Journey, Wildlife Team, Wildlife Mission, or Ocean Better.
Additionally, Club Ocean has been targeted by counterfeiters, and there are fraudulent websites claiming to provide animal tracking features that possibly redirect users to Sea Turtle Conservancy tracking, leading to confusion and discrediting the company's legitimate operations.
Is Fahlo sea turtle legit?
Fahlo Sea Turtle appears to be a legitimate nonprofit company that works in collaboration with charitable groups to provide bracelets that can help monitor sea turtles and other wild species, provide assistance and protection for them, and promote awareness of several issues.
Fahlo partners with a variety of wildlife conservation organizations and donates a portion of the proceeds from every purchase to the organizations connected with the campaigns.
There are also positive customer reviews on Trustpilot, with one customer stating that tracking the animals has been a fantastic experience.
However, there is at least one negative review on Amazon that mentions defective tracking for a turtle.
Overall, Fahlo Sea Turtle appears to be a legitimate company, but potential customers should do their own research and read reviews before making a purchase.
Is there sea turtle tracking necklace?
There are sea turtle tracking necklaces available for purchase. For example, Marinelife Mission offers "The Voyage Necklace" which includes a real turtle tracking feature alongside a turtle pendant.
Additionally, Etsy has a variety of sea turtle tracking necklaces available for purchase.
How do animal tracking bracelets work?
Animal tracking bracelets typically work by using GPS or satellite technology to monitor the movements of the animal wearing the bracelet.
The bracelet is usually equipped with a small tracking device that communicates with a network of satellites or other tracking devices to determine the animal's location. The data collected by the tracking device is then transmitted to a central database where it can be analyzed and used to track the animal's movements over time.
Some animal tracking bracelets also include other features such as temperature sensors, accelerometers, and other environmental monitoring tools that can provide additional information about the animal's behavior and habitat.
What happens if my Fahlo animal dies?
If your Fahlo animal dies, you should contact the company's customer service team to report the incident and provide any relevant information about the animal's death. The team will then work with the conservation partner associated with the campaign to determine the cause of death and take any necessary actions to prevent similar incidents in the future.
If the death is determined to be related to the tracking device or bracelet, Fahlo will provide a replacement bracelet and tracking device free of charge.
Does Fahlo really help animals?
Fahlo is a legitimate company that helps animals through its partnerships with various wildlife conservation organizations.
Fahlo donates a portion of the proceeds from every purchase to these organizations, and the bracelets themselves provide a way to monitor and track the movements of animals such as sea turtles, sharks, polar bears, and elephants.
Final Words
Lastly, in order to support aquatic animals, you should seek respectable organizations that are entirely honest about how your contribution is used as you cannot get to see the difference firsthand.
Do your homework before you donate money to a good cause or a business. If you're unsure about a company, read reviews on credible websites, search for different sources for information and avoid doing business with it.
Anyways, do not let these scam websites stop your kind soul. In a world full of scams your generosity and empathy need to shine brighter which can be done just by being a little careful and aware.